Looking for a compact and reliable surveillance camera for your home or business? Look no further than the IPC2124SS-ADF28KM 4MP Mini Fixed Bullet Network Camera from Uniview, available through Nodac Technology in Miami, Florida. With advanced features such as a 4MP sensor and high-definition resolution, this camera delivers crystal-clear images even in low light conditions. Plus, its compact design makes it easy to install discreetly for seamless monitoring of your property.
With an extreme temperature range of -31°F to +140°F, for different environmental conditions this IP camera can handle a variety of harsh environments. The weather resistance ratings of this camera are professional grade IP67, so it has the maximum protection against the elements of the environment. Even better, this IP camera has an IK10 impact rating, so it can be deployed in areas prone to vandalism, making it one of the quintessential public cameras. Uniview cameras have a wide voltage range and are capable of long-range PoE runs of up to 300 meters (980') when used with a Uniview NVR. Therefore, no additional equipment is required for long cable runs.
The IPC2124SS-ADF28KM 4MP Uniview IP Bullet Camera has a 2.8mm lens that has an AOV of 107.8° for a wide coverage area in the installation space. This UNV Bullet brought to you by Nodac Technology also has a built-in microphone for audio recording on your NVR. Prime II series cameras are capable of intelligent features such as line crossing, intrusion detection, left object detection, and much more!

True WDR
The IPC2124SS-ADF28KM has True 120dB WDR (Wide Dynamic Range). Scenes with a variable range of light are difficult for most cameras. However, with True WDR Cameras, scenes are rendered in full detail for bright and dim areas simultaneously. This is especially helpful in applications such as entry ways where you may have dim lighting indoors, but your doorway or windows have bright sunlight. See our sample image below!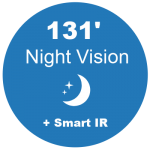 Up To 131 Feet in Complete Darkness!
Uniview Prime II IP Cameras can deliver images in complete darkness up to 131 feet away. These new powerful IR Cameras are designed to give you the extended coverage you need, day or night! In addition, Smart IR provides more detailed nighttime images with greater detail and less blur and graininess.
- Day/night functionality
- Smart IR , up to 30 m (98 ft) IR distance. Starlight Pro, Ultra Low-Light: 0.003 Lux
- Optical glass window with higher light transmittance
- IR anti-reflection window to increase the infrared transmittance
- 2D/3D DNR (Digital Noise Reduction)
- All Metal design
- Smart Functions: All of them support smart functions (cross-line, intrusion, face detection, etc.).
- Square Window: In the same lens scheme, the square window can keep out larger field angle than the circular window, and the risk of dark angle is smaller.
- Others: These IP cameras support True WDR, SD card, audio I/O alarm I/O (or Mic) to meet the requirements of the SMB market. In addition, they all support IP67, dome supports IK10